Brick Fencing
Brick fences are one of the most durable fencing materials around and can easily span generations of time.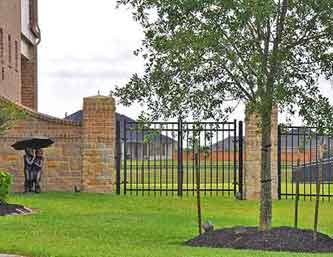 A brick fence can bring a level of style and class to the residence or commercial property which other types of fencing will not provide. Brick fencing can also be combined with other fencing materials such as wrought iron, wood or stone to provide a wide array of beautiful and stunning options.
Types Of Brick Fencing
Brick fences can usually be considered as two basic styles of fencing, closed brick fences and open brick fences. Closed brick fence styles are brick fences that have no gaps or spaces in them. The closed brick style of fencing will serve to provide privacy to the yard and can additionally help to block noise. The second type is the open fence design, this type of design while providing separation is used mostly as an accent around the house or facility. Besides providing a degree of separation the open brick design offers a wide variety of styles and mix and match using different fencing materials. These different fencing materials can be wrought iron or wooden panels to show off the yard, or go with closed fence panels and a closed fence design if you prefer privacy.
Styles Of Brick Fencing
Brick fencing can be combined with any other fencing material such as brick and stone fencing, brick and wrought iron fencing, brick and wood fencing or brick and masonry fencing. Any one of these styles or combination can produce a beautiful fence that can be custom tailored to match the outside of the residence or blend in perfectly with the landscape. Brick fencing material also is available in many colors and styles. You choose grainier bricks which have several colors, old-world style and rustic looking or with a modern smooth and even color appearance or even use a combination of bricks to create a beautiful-looking brick fence. Possibilities are endless when considering a brick fence.