Cedar Fences
Cedar Is Commonly The Wood Of Choice When Constructing Fences Because Of Its Durability, Appearance And Natural Resilience.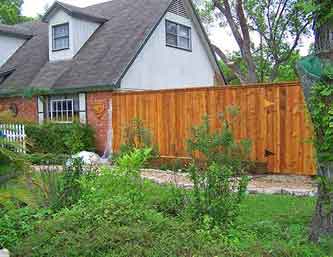 Before building your cedar fence, you have several options to choose from . You need to select the kind of of cedar you want to use. Additionally, you will need to decide how practical or fashionable you want your cedar fence to be.
Advantages Of Cedar Fencing
Cedar wood has organic oils that make it resistant to insects and moisture. For fencing, cedar boards are much less likely to crack or warp in contrast to other varieties of wood. Cedar can be stained, painted or sealed with a clear urethane to extend its lifetime and preserve it against the weather. The life expectancy of a cedar fence can range from 15 to 20 years and up, especially when properly cared for with routine staining or sealing of the wood. As it ages, cedar transforms into a shade of silvery gray. Cedar board fencing also has a tendency to swell and contract much less than many other kinds of wood.
Cedar Fencing Purposes
Cedar wood fences can be used for numerous purposes including boundary markers, privacy and to increase the beauty of your home and landscape. Cedar fences are attractive on both sides . Because they last for so many years you don't need to worry about repairing them very often. You can choose a cedar fence from a variety of designs, sizes and shapes. Cedar wood fences are a perfect option to other types of wood fences that are processed with chemicals due to the cedar's natural oil content.
Features Of Cedar Fencing
The water resilient attributes of cedar fences serve to preserve their resilience and charm. A little known fact is that Cedar is hydroscopic. This means moisture is soaked up very rapidly like to a sponge. Western red cedar will then release moisture until it achieves a balance with its natural environment. Cedar can be subjected to issues that usually would cause wood rot and it still lasts because of its organic resistance to decay. Western red cedar will last longer than other softwoods.
Grades Of Cedar
Cedar fence wood comes in different qualities such as clear and knotty. One grade of western red cedar is "clear vertical grain heart" grade. This kind of cedar grade is stable, can hold a finish and is decay resistant. Another western cedar grade is called "A clear" which in turn is pieces of varying vertical and flat grain. It's an ideal option for a cedar fence. Northern white cedar is an exceptional quality of wood. Various grades of cedar make a huge difference in the look of cedar fences. Certain fences may appear more stylish or elegant and others rustic or country.