Farm Fencing
A Farm Is A Business And The Type And Installation Of Fences Used On Any Farm Are Considered As Business Assets And Can Become A Very Important Part Of The Success Of Any Farm.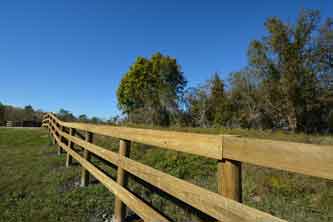 Farm Fencing is an investment and depending on a number of considerations must be chosen correctly and installed properly. Making good choices and insuring an expert installation will help to guarantee revenue and prevent losses.
In order to choose what type of farm fencing to use one must consider some important factors:
City and or county zoning rules to comply with
Type and extent of maintenance requirements
Intended purpose of the fence
Type of land (desert, forest, grassland, tundra, hilly, flat)
Below are just a few of the more common types of Farm Fencing:
Post and Rail Fencing
Post and Rail Fencing is a relatively common and popular option for many farmers. Usually, it is made up of a timber post and rail fence, paired with three horizontal rails. Sometimes concrete posts are used rather than wood posts if the fence runs alongside a road. This adds to the strength of the fence structure and helps to ensure the livestock cannot get out and possibly cause an accident.
Woven Wire Fencing
Woven Wire Fencing is another very common and popular fencing material used on farms. This type of fencing material is made of smooth wires run horizontally and held together by vertical wires. To prevent smaller animals from squeezing through at the bottom the horizontal spacing is closer toward the bottom than at the top. The fence material itself can be fastened to wood or metal posts. Woven wire fencing is ideal permanent fencing for goats, sheep, pigs, poultry and horses.
Electric Net Fence
Electric Net Fencing is mostly used as field management. It is fairly easy to setup and serves well in keeping livestock in and local wildlife out of the area. This type of fence is also adaptable to various terrains and movable so it can serve as a temporary fence. The woven design of Electric Net Fencing also provides for high visibility.
High-Tensile Wire Fencing
High-tensile wire fencing consists of horizontal wires run through insulators which are fastened to fence posts. This type of fencing can be considered as a semi-permanent fencing alternative that is strong, durable yet smooth to the touch. High-tensile wire fencing is usually considered as a more costly fencing option although once the durability, life expectancy, and low-maintenance requirements are averaged against other types of fencing it can become an attractive Farm Fencing option.
Barbed Wire Fencing
Perhaps the oldest form of Farm Fencing In some areas, barbed wire has been labeled as illegal in some towns and subdivisions because it can injure animals, especially newborn foals or calves. Still it is an effective and cost-wise barrier in some separation schemes where keeping unwanted guests out or animals in is important.