Wooden Fences
Read Below For Information About The Types And Purposes Wooden Fences Can Serve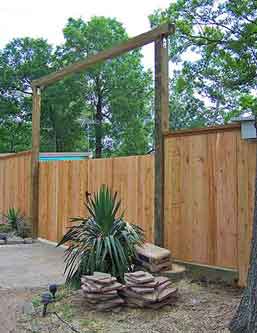 Wooden fences are among the most popular type of fence built from a multipurpose material and can be designed in a variety of ways. Wood is also cost-effective and fairly low on upkeep. Wooden fences can be made from different varieties of wood as per the requirement. Wooden fencing gives a good-looking, traditional look to the house plus there are many options among wood fence panels styles and material. So, it all depends for what purpose and which design of the fence you like. You can pick a simple privacy wood fence style that offers good protection and privacy for your property, or you can pick spaced picket fencing and display the beautiful garden you have. There are many choices for you to consider from. Here are the products used for making wooden fencing, and some of the fence styles used.
Cedar Fencing
Cedar is quite in demand because of its many advantages. This wood is rot-resistant and the application of oil, staining or urethane is something one does not have to worry about as in the case of redwood. Cedar fencing is one of the most favored choices when it come to wooden fence material. You can opt for the Northern White Cedar which has a yellow color or go with the favored Western Red Cedar which gives the boards a red color. These types of fences may need only occasional upkeep.
Redwood Fencing
Redwood is attractive as a boundary fence and is by nature resistant to insect damage, also the substances present in redwood help to fight mildew. Redwood fencing does not require staining , mainly because it is popular for its natural color. You can instead use oil or urethane coating to increase the lifespan of redwood.
Split-rail Fencing
Many ranches and farms that are seen in the country make use of split-rail wood fences. These create a feeling of privacy but have a attractive, traditional look. Such fences are characteristic because of the rugged posts used in the design and style. Frequently, one can see beautifully designed ranch houses that are surrounded by such wooden fences. Corral fence is also a type of split-rail fence, the only distinction being that it has a polished look instead that a rustic one. These are quite affordable and are commonly used for large properties like farms. The unrestricted design does not block the breeze and at the same time, protects the grounds and animals.
Wooden Picket Fences
Wooden picket fences have a charm of their very own! Flat wooden planks which are referred to as pickets are placed into the ground a little apart from each other and are then bound together with fence posts. This is a simple yet effective design. Typically these fences are colored in white, however, they can be given any appealing color to match the look of the house. This type of fencing suits cottages with eye-catching blossoming gardens, but can be used for any type of houses as these fences are very versatile and come in various styles and designs.
Privacy Fences
Privacy fences are designed for locations that need specific protection or security. Privacy fences block off contact from the street or neighborhood. This type of fence can be easily dismantled and moved with ease. This wooden fence can be constructed either vertically or horizontally. Shadow box fence is another option that one can go for. Instead of upright boards laid side by side, boards are placed facing each other alternately and on alternate sides. This prevents outsiders from peeping within, and at the same time makes way for the breeze to move through.