Wrought Iron Fences
If Elegance And Long-term Endurance Are Of Considerable Importance To You, Then A Wrought Iron Fence May Be Your Best Solution.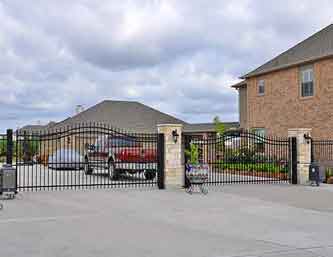 Take a walk along the historic neighborhoods of any town, and you're most likely to see wrought iron fences surrounding the grander properties, many with attractive characteristics and embellishment. Installing a wrought iron fence not only provides safety and defines a space, but also contributes to a feeling of style and sophistication to your yard or garden.
What Is A Wrought Iron Fence?
In the beginning Wrought Iron referred to a composition of iron and additives that made the metal malleable plus incorporated a low corrosion rate. Most modern day wrought iron is made from mild steel, traditionally coated black, and usually formed in an unrestricted, picket style with attractive scrolls. Many homeowners choose a wrought iron fence because they provide the safety and boundary definition of a fence yet due to the open design allow viewing of the sorrounding area and landscape. Wrought iron fences additionally are considered more stylish and sophisticated than other styles of fences.
History Of Wrought Iron Fencing
Wrought iron fences were once considered synonymous with wealth, and were utilized only around public buildings, churches and the homes of the elite. As blacksmiths came into The United States from abroad, wrought iron fences became more prevalent. In the mid-1800's, wrought iron fences were made in manufacturing plants, and turned into the fence of choice in towns due to their ability to keep homes secure. Today, wrought iron fences are generally still made in factories, or as another and perhaps more expensive option, homeowners can commission custom fences from blacksmiths. There also is a flourishing business in wrought iron fence scrap, and some property owners add reclaimed fences to their property for a small percentage of the cost of a new fence.
Modern Wrought Iron
Traditionally, wrought iron was used for fences because it has a lower carbon content than cast iron. This attribute makes it easier to cast into designs while still delivering strength and durability. Nevertheless, as mild steel came to be more widely obtainable, a lot fewer blacksmiths used real wrought iron, and more fences manufactured these days are crafted from mild steel. Real wrought iron still is utilized by some blacksmiths in restoration or reproduction projects, but it is very expensive and much less resilient than mild steel.
Imitation Wrought Iron
Real wrought iron or mild steel is a durable fence material. Some manufacturers sell fences designed to imitate the look of wrought iron, but are really made from aluminum or other composite materials. In general, aluminum fences are not really as strong as wrought iron and can be easily bent or damaged. Wrought iron insures a degree of safeguards and security that other fences are not able to, because it is very challenging to inflict damage on a quality iron fence.
Advantages of a Wrought Iron Fence
If you expect significant usage and lots of wear and tear, then a wrought iron fence might be your best option. A wrought iron fence is known for dealing with much heavier traffic or abuse and can continue for many more years than conventional fencing. Another benefit of a wrought iron fence is that it has much more character and style than other fences.