Agricultural Fencing
Rockin' D Fencing builds agricultural fencing in the Houston area for a variety of fencing needs.
You may simply have only a few head of livestock, or you may depend upon your livestock for your livelihood. Whatever the case may be, we feel that we have the ability to meet your fencing needs.
Rockin' D Fencing will help you lay out and build a livestock fence to contain whatever kind of livestock you raise. From standard barbed wire fence for cattle, three board horse fencing, to six foot fixed knot high tensile wire fence to protect smaller livestock from predators, our experience will help you develop your ranch the way you have always needed. An efficient infrastructure is a key element to any livestock operation's profitability.
We have a long-standing tradition of building quality horse fencing . We specialize in 4-Board Farm and Ranch fence construction. These types of fences add a great appearance to any property.
Rockin' D Fencing is proud to build an extremely durable, tremendously strong game fence from the highest quality construction materials available on the market today! We recommend a thorough investigation of construction options before you make a commitment to build a fence that should protect your wildlife investments for decades. With our efficient construction methods we look forward to offering you a competitive price for a truly first class fence including the option of an all galvanized game fence.
We specialize in constructing top quality wildlife and livestock fencing . Whether your goal is to maximize the grazing potential of your rangeland, or to simply maintain the infrastructure on your ranch, Rockin' D Fencing can build the fence suited for you at a price suited to your budget.
---
Three rail live stock fencing can provide a safe, sturdy and cost efficient barrier for your livestock. This particular three rail livestock fencing incorporates an added wire barrier and sturdy six inch posts for even more security.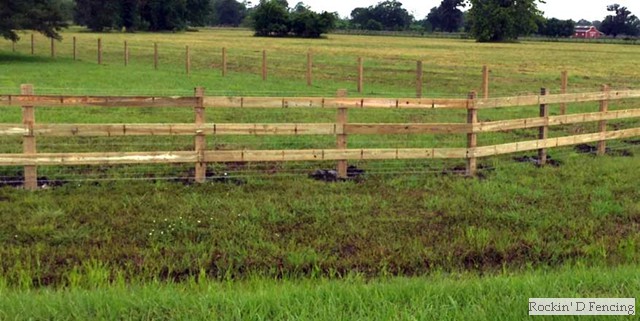 — For more information about three rail horse fencing —
---
There are many types of agricultural fencing that will provide for a sturdy and yet appealing look. Depending on the type of livestock or agricultural needs Rockin' D Fencing can construct, add to or repair an existing fence which will satisfy your specific requirements.
Shown below are just a few of the fences Rockin' D Fencing has constructed.
Hover over the before & after pictures below to zoom in
Field fencing with five inch round posts and 4X4 wire plus an added extra wide gateway for easy access.

Livestock fencing can also be constructed from round metal pipe which provides an ultimate level of strength and durability. This fence boasts four steel pipe rails and an added layer of paint for
appearance and protection.

This wrought iron agricultural fencing with 6X6 wood posts provides an appealing look plus
security and strength.