Rockin' D Fencing Has Been Providing Professional And Quality Alvin Fence Services To Customers In the Alvin, Texas Area Since 2002.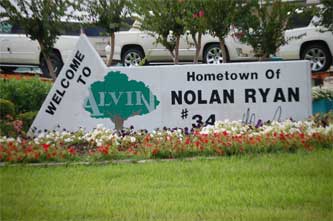 Prior to constructing a fence in Alvin, TX any Alvin Fence Company usually will be required to obtain a building permit and depending on location may have to satisfy the specifications of a homeowners' association as well. One of the many customer goals set by Rockin' D Fencing as an Alvin Fence Company is to make any fence installation as painless as possible for our customers.
Alvin Fence Services
Rockin' D Fencing's Alvin Fence Services will in most cases exceed all building permit and homeowner association requirements. Based upon these requirements and the customers needs we will provide a selection of fence types and building options that will satisfy even the most demanding of requirements and customers. To satisfy our Alvin, Texas customers we will first determine these important fundamental questions:
What will be the purpose of the fence?
Are there any pets or children at the residence or facility?
What type of fence and materials used would best satisfy all concerned parties?
As basic as these questions may seem to be, the answers will provide the building blocks to every successful fencing project. An ordinary Alvin Fence Company will approach any fencing project with nothing more than an 'as instructed' attitude. Rockin' D Fencing will take your project to the next level with a sincere interest in customer satisfaction.
Alvin, Texas Fence Company
Alvin, Texas is located in northern Brazoria county and was incorporated in 1893. The city of Alvin was named after Alvin Morgan an overseer for the railroad. From then to now Alvin, Texas has become a thriving and diverse community with agricultural, commercial and residential fencing needs and requirements. Rockin' D Fencing understands these needs and will work for you our customer continually striving to be your premier Alvin Texas Fence Company.