Rockin' D Fencing is a Houston Area Fence Company providing professional and quality Houston fence services to customers in the Houston area since 2002.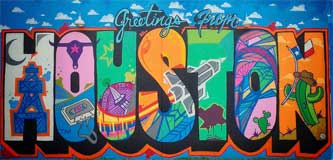 A Houston Area Fence Company constructing fences in the Houston area must take into consideration specific geographical issues presented at every location, plus the building requirements and zoning regulations of the city. Houston, Texas is a diverse city in all these aspects. Geographic considerations may include low sloping hills, clay ridden soil and flood prone areas to name a few. Building requirements and zoning regulations can change from one district to another. These requirements are often driven by neighborhood home associations and commercial or residential zoning requirements and building permits. Rockin' D Fencing has provided Houston fence services to the citizens of Houston, Texas since 2002 and during this time has become one of the foremost experienced Houston Area Fence Companies to date.
Rockin' D Fencing has attained this position by taking a step up from any other Houston Area Fence Company. We consider all geographical issues presented at the location of the fence construction and any commercial or residential building permit or zoning requirements and will provide a selection of fence types and building options that will satisfy even the most demanding of requirements and customers. This type of customer consideration and attitude has placed Rockin' D Fencing as a premier Houston Area Fence Company providing fence services in and around the city of Houston, Texas.
Rockin' D Fencing has earned a reputation as providing quality and professional fence services to the citizens of Houston, Texas. Since 2002 we have upheld the standard for excellent services. We specialize in custom residential fencing , commercial fencing , agricultural fencing and security or safety barrior fencing . Our Houston fence service provides all types of materials to build your fence. From brick fencing , chain-link fencing to wood fencing and wrought iron fencing Rockin' D Fencing will prove to be your preferred Houston Area Fence Company.